Jeanne Farewell's designs include greeting cards, theater posters, menus, product proposals, web site illustrations, and paintings of America's rural past.

Paintings are available as prints and cards, and are sold at shows and online through the Puddingdale Press.

Jeanne accepts commissions for web site illustrations, dinner party menus, and unique special-occasion cards including wedding invitations and engagement announcements.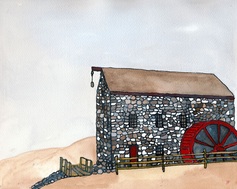 "The Grist Mill," Illustration by Jeanne Farewell






Shows have included paintings of "Tales of the Old Grandmother" based on Prokofieff's piece of the same title, and music inspired by folk song and dance. The paintings utilize iconic themes from America's folk art tradition.
---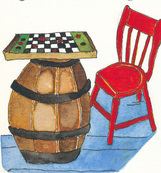 "Checkers," Illustration by Jeanne Farewell

Exhibitions have benn held at the Bucks County Performing Arts Center in Yardley, Pennsylvania; the Lounsbury Mansion in Ridgefield, Connecticut; in Deerfield, Massachusetts; La Plata, Maryland; Newton, Massachusetts; Schoodic Arts in Winter Harbor, Maine; on the Cape in Wellfleet, Massachusetts; in Glastonbury, Connecticut ; and at the Parish Center for the Arts in Westford, Massachusetts, with a Gallery Talk.
---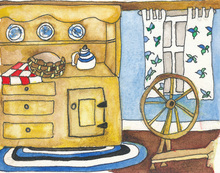 "Trevor's Common Room," Illustration by Jeanne Farewell
---
Images All Rights Reserved. Copyright Jeanne Farewell